I know. I have way to much to do. But who can resist a Quilt Along? So I've added 4 projects to my "Current Project" List. These are running from September to November and are released on a different day of the week for 5 to 9 weeks. Two of them will definitely begin to get me into Holiday stitching!
Project #1 – Snowmen & Silent Night by Jacquelynne Steves
This is an email based sew along. The fabric requirements have already been released, but the actual patterns will begin September 20th & will be emailed on Mondays for 5 weeks. If interested, it's not too late to sign up. I have already pulled my fabric from my stash and am ready to begin.
Project #2 – Fat Quarter Shop's All the Trimmings
This Mystery is divided into weekly steps released on Tuesdays beginning September 7 through October 5th. The fabric requirements are available at the Fat Quarter Shop. You can read about it Here on the Jolly Jabber Blog.
Project #3 – Project Linus 2021 Mystery Quilt Challenge – Oliver's in the Dog House
This will be the 6th Annual Project Linus Mystery Quilt Challenge I will be doing. This is the major fund raiser for Project Linus – Click Here to read more about the good work this organization does through volunteers nationwide. The pattern costs $20 registration fee and entitles you to weekly pattern releases including very detailed video instructions beginning Saturday, September 25th. Registration is already open and once registered you will be given a login and password to download the Preparation information and watch a video.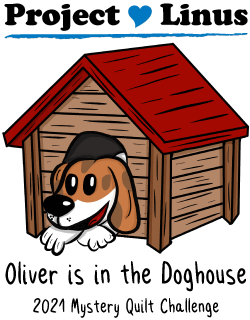 I don't really know if Carole will be doing another of her Autumn Jubilee this coming October, but I am definitely going to follow her if she does. It's always fun to see what she has planned for us. If she does, it runs the month of October and includes a variety of craft/sewing projects for all different interests. Click Here to view her previous Autumn Jubilee offerings.
Fall Sewing will also include:
I will continue to work on UFOs & OMGs as well as returning to the "Current Projects" from the Spring. And the List goes on and on………
Spring Current Projects Status:
Scrap Dance/Pachanga –

2 Tops completed,
Backing Fabric Purchased, Need to create Backing & Send to Longarm Quilter.

QOV – Dakota –

Top completed,
Backing Fabric on Hand. Need to create Backing & Send to Longarm Quilter

Hand Pieced QAL/Harmony –

Top completed,
Adding Borders.

9 Patch Rows – Has been on hold,

Need to return to it and work on additional Rows.
Assemble Rows & Add Borders

My Hometown Quilt – Has been on hold,

Need to return to it and make Blocks 4 & 5,
Add sashing, setting triangles and borders.
---
In the United States we will be having a 3-day weekend since Monday is Labor Day. Labor Day is always the first Monday in September. It became an official Federal holiday in 1894 and is in recognition of the contributions and achievements of the working force. It is also thought of as the end of Summer and most schools have returned for the new academic year.
Hopefully I will get some sewing done!
Happy Stitching!
Quilt Mouse