If you have been following me for a while you will possibly remember that for the past 5 years I have supported Project Linus and participated in the fall Mystery Quilt Challenge. This is the major annual fund raiser for Project Linus. Registration is now open for the 2021 Mystery Quilt Challenge and the name of the pattern is Oliver's in the Doghouse. This will be one of my four "Current Projects" for Fall 2021.
The first clue will be released on Saturday, September 25th, and then new clues will be given every Saturday, until November 20th which will be the BIG REVEAL! The registration fee is $20. Once registered, you will be given a username and password to access the fabric requirements and preparation video. The username and password will allow you to retrieve each clue and view tutorial videos. The registration fee can be designated to support a local chapter of Project Linus or to help the national organization defray their costs. If you are interested in supporting Project Linus, you can Click Here to register.
Here are previous quilts.
OK, life got in the way and I haven't finished the 2017 & 2018 Mystery Quilt Challenge Quilts. I have some applique to get done and pieced sashing. But, I'm working on them!
I invite you to join me in both supporting this great organization and making a fun quilt. There are prizes given along the way if you join in on their Facebook page, and an exciting contest for those who completely finish their quilts. Wonderful sponsors share some lovely gifts.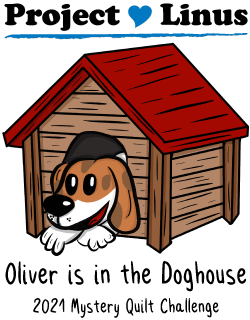 I'll be sharing my progress as I stitch along. I do have some scheduling conflicts so I may be a bit off, but will definitely share my work as it gets done.
This weekend is a 3-day holiday weekend for those of us in the US. The weather looks like it may cooperate and be nice. Today I will be making Potato Salad & Cole Slaw. On Sunday, we're planning to grill hamburgers and hot dogs to go with the salads. Maybe I'll make Macaroni and Cheese, too. For those in the US – Happy Labor Day! For my international followers, I hope you have a nice weekend!
Happy Stitching!
Quilt Mouse